Product Description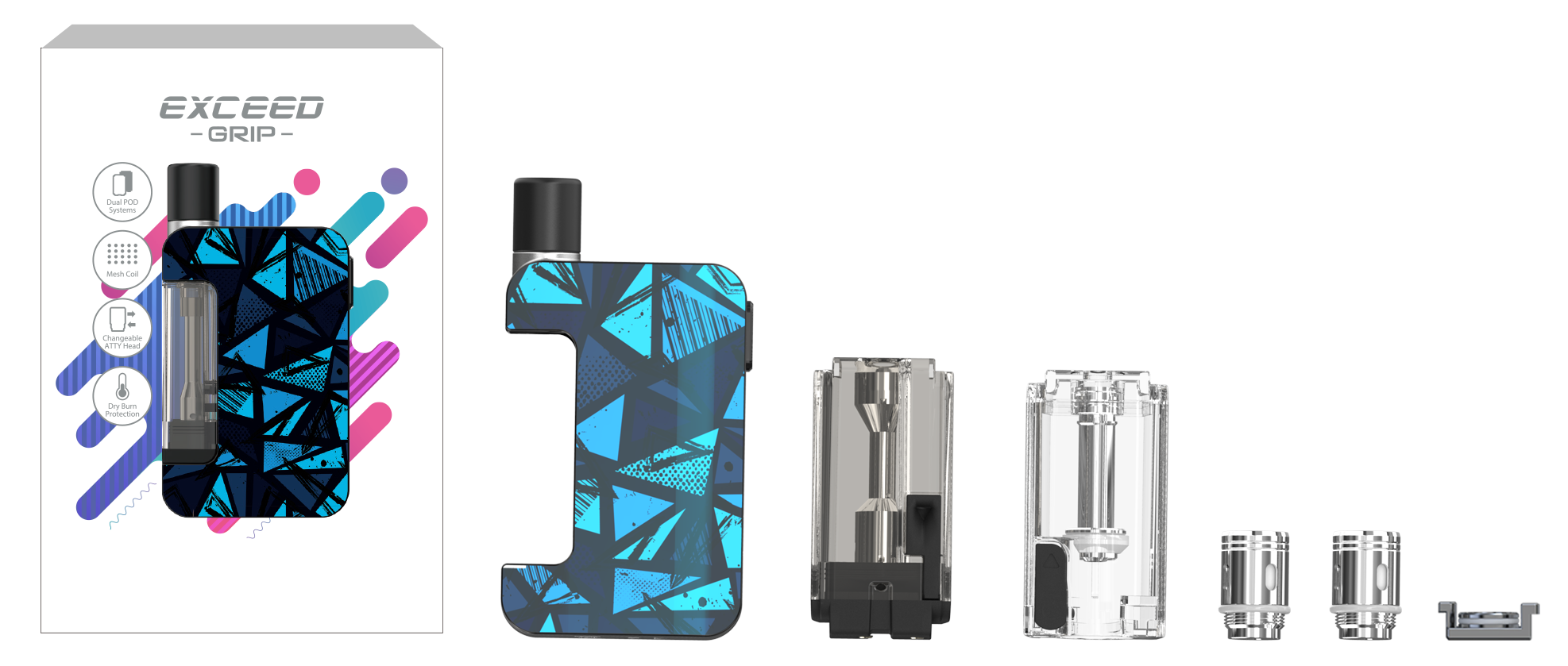 Joyetech presents the Exceed Grip Portable System a single button device with a 4.5ml juice cartridge, 5V constant output, 1000mAh built in battery, starting with four unique finishes. This compact device comes in a small form factor, perfect for any on the go journey. With exotic designs and all in one factor, the Exceed Grip exceeds expectations for new and veteran users alike!
Once again, the Exceed Grip comes in a square form factor with only a simplistic single button user interface. Simplicity is what defines this device, gone are the worries of wondering which power output users need to define. The proprietary chipset of the Exceed Grip will automatically detect the ohms used in the replacement cartridge and pod and run the output power accordingly. However, the power output of this device is dependant on the 1000mAh built-in battery. Users will know what battery life remains due to the LED battery life indicator located above the USB port. This light will change according to the remaining percentage of the battery with white being above 20% and red being blow 20%. Charging this device is again, the keyword is simple, through a USB port. The Joyetech Exceed Grip has many loud finishes that are sure to turn heads! Perfect for seasoned vapers or those just starting out!
Integrated into the chipset of the device is the DBP (Dry Burn Protection). This handy and innovative function is based on auto temperature-controlled technology which allows users to kick back, relax and enjoy a vape without any burnt hits. Tracking the use of DBP is a breeze with the use of the indicator light (above the USB port), flashing twice before a dry or burnt hit and cutting off all power immediately there after for a smooth and worry free vape session. This feature works exclusively with the provided EX-M coil head and integrated mesh pod cartridge.
Included in the package are two Exceed Grip refillable pods, one has a rating of 0.4 ohm and comes equipped with Mesh Coil head which are interchangeable while the other is a 0.8 ohm mesh coil which cannot be interchanged. The 0.4 ohm pod can accommodate 4.5ml of juice while the 0.8 ohm pod can accommodate 3.5ml. Each pod share the similarity of being easily filled by removing the silicone stopper located on its side. These cartridges are made with a proprietary connection featuring a gold plated connection, allowing it to snuggly fit onto the device.
PRODUCT SPECIFICATIONS
JOYETECH EXCEED GRIP POD DEVICE
Single Button Firing Interface

Dry Burn Protection DPB

Auto-Cut Off sensory

Available with EX-M Coil Family and Integrated Mesh Pod Cartridge

Refillable Exceed Grip Pod System Standard Cartridge

4.5ml Capacity

EX-M Coil Family

0.4 ohm Atomizer Resistance

10 to 13W Wattage Output

Mesh Coil

Plant Fiber Wicking Material

Interchangeable Coil Heads

Proprietary Connection

Side Fill Port

Refillable Exceed Grip Pod System Pod Cartridge

3.5ml Capacity

0.8 ohm Atomizer Resistance

Proprietary Connection

Side Fill Port

Plug and Play Connection

Replaceable Drip Tip on Device

Gold Plated Contacts

Integrated 1000mAh Battery

LED Battery Life IndicatorProtections

100% to 20%


Less than 20%
Product Dimensions
Product Includes
One Joyetech Exceed Grip Battery

One Standard Exceed Grip Cartridge

Two Joyetech EX-M 0.4 Heads

One Exceed Edge Pod Cartridge

One Warning Card

One User Manual

One Warranty Card

One USB Charging Cable
Find Similar Products by Category
Customers also viewed